Icons and drawings on display at Archabbey Library Gallery
Tuesday July 2 - Friday August 30
Archabbey Library Gallery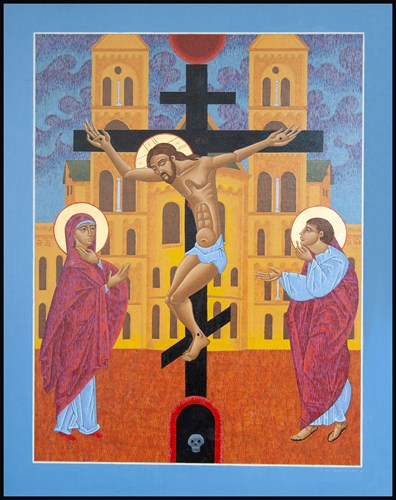 Saint Meinrad Archabbey Library Gallery, St. Meinrad, IN, is hosting an exhibit of icons and drawings by Br. Michael Moran, CP. The show will run from July 2 through August 30.
Although Br. Michael is proficient in many media, one of his specialties is painting icons. He translates this ancient art form of the Eastern Christian churches into contemporary terms.
Icons are very stylized, flat and almost two-dimensional when compared to their western cousins. Usually painted on wooden panels with gold leaf backgrounds and halos, icons are colorful. Icons are more concerned with embodying theological truths than mirroring the material world, and the figures depicted can appear stern or preoccupied.
For many years, Br. Michael followed the rules that govern the creation of icons. Over the past year, however, at the suggestion of Br. Martin Erspamer, OSB, he decided to "loosen up a little."
This exhibit reflects this. A little more of the artist is reflected in the icons. For example, one icon is set in Saint Meinrad, another has a background of trees, and some figures are based on drawings or linocuts he had previously made.
Br. Michael is a member of the Eastern Province of the Passionist Community, professing vows in 1974. He earned a master's degree in theology at St. John's University in 1977.
Br. Michael's works have been exhibited since 1985 in galleries and museums, largely in Illinois, Kentucky, New York, Pennsylvania and Texas.
For library hours, call (812) 357-6401 or (800) 987-7311, or visit the Archabbey Library's website: www.saintmeinrad.edu/library/library-hours/.
The exhibit is free and open to the public. Those wishing to view the exhibit may want to arrive at least 30 minutes before closing time.
Photo: "Crucifixion" by artist Br. Michael Moran, CP