National Players to perform 'Othello' and 'Alice in Wonderland'
Friday March 16 - Saturday March 17
St. Bede Theater
7 p.m. Central Time
Saint Meinrad Archabbey, St. Meinrad, IN, will once again host the National Players, America's longest-running classical touring company, as it presents plays on March 16 and 17.
On Friday, March 16, the actors will perform Shakespeare's "Othello," while the performance on Saturday, March 17, will be "Alice in Wonderland" based on the book by Lewis Carroll.
All performances are free and open to the public. They will be held at 7 p.m. Central time in St. Bede Theater on the Saint Meinrad campus. Doors open at 6:30 p.m.
A buffet supper will be offered each night before the show, served in the Anselm Hall Dining Room from 5:30 to 6:15 p.m. The meal on March 16 will be a Lenten (meatless) buffet. The cost of the meal is $10. Meal reservations must be made by March 13 by calling (812) 357-6578 or emailing kitchen@saintmeinrad.edu.
Currently a program of Olney Theatre Center in Maryland, National Players has earned a unique name and place in American theater history. Over the last 69 years, the acting company has performed in the White House; in Europe, Asia and the Middle East for American military; and throughout 40 states.
In "Othello," the title character is a celebrated general returning home from the wars, but his dark skin and foreign origin inspire hatred from several people, especially the man he trusts most: Iago. As Iago twists Othello's love for his wife Desdemona, everyone becomes pawns in Iago's devious plots.
This classic tale of identity, bigotry and deceit is examined with contemporary clarity, combining Shakespeare's language with modern clothing to transform the drama into a powerful story for America today.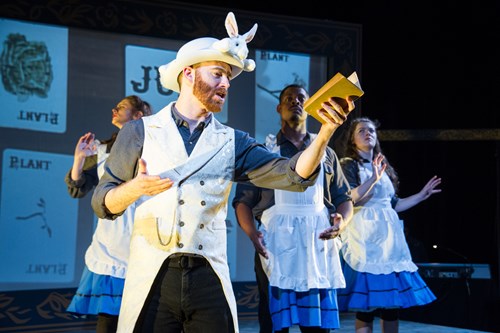 While "Alice in Wonderland" has become a popular children's story, it very clearly sums up the truth that growing up is not easy. For this reason, the National Players wants to reach out to students at the middle school level (grades 4-8).
Of course, "youngsters" of all ages will be able to remember and identify with Alice as she encounters the Rabbit, Caterpillar, Mad Hatter and even the Queen of Hearts.
For more information, contact Mary Jeanne Schumacher during business hours at (812) 357-6501.