Portraits, sculptures on display in Library Gallery
Thursday May 17 - Saturday June 30
Archabbey Library Gallery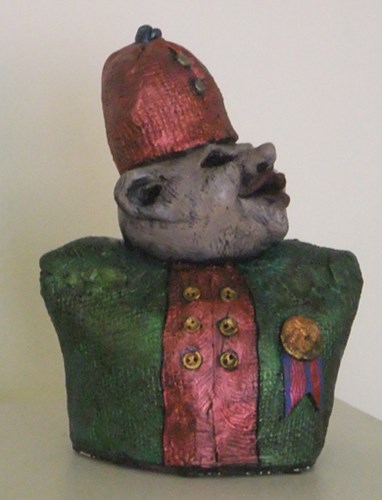 Saint Meinrad Archabbey Library Gallery, St. Meinrad, IN, is hosting an exhibit of portraits and sculptures by Louisville, KY, artist Bob Lockhart. The show will run from May 17 through June 30.
This exhibit includes Neocolor drawings and ceramic sculptures. The drawings are playful and brightly colored. According to the artist, they depict "famous people I've had tea with in the last several centuries." The characters range from Ben Franklin to Frida Kahlo to Jimmy Hendrix. 
The idiosyncratic sculptures have definite personalities and attitudes, although they do not represent famous figures.
Now retired, Lockhart taught at Bellarmine University for more than 40 years. He guided students in the creation of art and opened their eyes to social justice issues with annual trips to Guatemala. He has a Bachelor of Fine Arts and a Master of Fine Arts from the Art Institute of Chicago.
Lockhart's work is in the permanent collections of the Whitney Museum of Art in New York, the Art Institute of Chicago, and the Speed Museum in Louisville, among others.
For library hours, call (812) 357-6401 or (800) 987-7311, or visit the Archabbey Library's website: www.saintmeinrad.edu/library/hours/.
The exhibit is free and open to the public. Those wishing to view the exhibit may want to arrive at least 30 minutes before closing time.
# # # #
Photo: A ceramic sculpture titled "August" by artist Bob Lockhart