Fr. Patrick Caveglia, OSB
March 20 to 22, 2021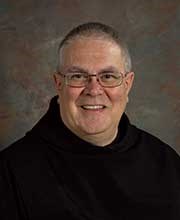 Part of the Church's role in the world is prophetic, and that means that Christians share the prophetic office.  Benedictine monks, sisters and Oblates have unique lenses in lectio divina and The Rule of St. Benedict through which to view the world and bring prophetic vigilance to daily affairs.  Our time together will allow us to explore our prophetic roots and chart how we might be gentle prophets in ordinary life. 
Fr. Patrick Caveglia, OSB, has been a Benedictine monk of Conception Abbey since 1971 and a priest since 1994.  He holds a BA degree in scholastic philosophy from Conception Seminary College; an MSA degree from the University of Notre Dame; and a MA in theology from Aquinas Institute.
For many years, Father Patrick worked at The Printery House, Conception Abbey's religious greeting card apostolate.  He has served as academic dean of Conception Seminary College and as Conception Abbey's business manager.  For twenty years he taught moral theology and Catholic social teaching in the seminary college.  His last assignment at Conception Abbey was as director of the Abbey Guest Center.
On July 4, 2014, Fr. Patrick was appointed prior of St. Benedict's Abbey, Benet Lake, Wisconsin, a monastery dependent on Conception Abbey.  There Fr. Patrick continues to assist with Benet Lake's retreat and hospitality ministry and keeps in contact with the community's many friends and benefactors.  He also serves as a counselor and the treasurer of the Swiss American Benedictine Congregation, to which St. Meinrad Archabbey, Conception Abbey, and St. Benedict's Abbey all belong.
Since this will be a recorded retreat in light of the COVID Pandemic, the times for you to participate in the retreat are flexible. This is a general schedule. We also invite you to pray with us via the live stream of Mass and Vespers.
The cost for this retreat is as follows:
Early Registration,  Feb 8 - Mar 14, 2021: $50.00
Registration after Mar. 14: $75.00