Perhaps you're interested in learning how Scripture, prayer, Benedictine wisdom or art can enhance your spirituality.
Saint Meinrad offers a variety of monk-led retreats during the year - on these and other topics at our Guest House and Retreat Center in southern Indiana.
Three-day retreats are held on weekends (Friday evening through Sunday noon) or during the week (Tuesday evening through Thursday noon).
To register online, begin by clicking on the title of the retreat that interests you.
A Step 11 Retreat for Recovering Alcoholics and Alanons
Friday, July 13, 2018 - Sunday, July 15, 2018
Location:
Archabbey Guest House and Retreat Center
Session Faculty:
Dave Maloney
(AA Retreat) This retreat is for those seeking, through heartfelt prayer and meditation, to improve their conscious contract with God, as they understand Him, praying only for knowledge of his will for them and the power to carry it out with guided meditation, lectio divina, praying with the monks and group sharing. This retreat is designed for those who wish to abandon themselves to God. 
Fees
Single- $255
Double- $425
Register Online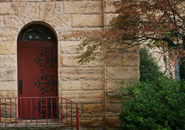 Br. Maurus sends out a free newsletter of upcoming retreats and pilgrimages.
Sign Up