For several months during 2017, the bells were silent at Saint Meinrad Archabbey. Their distinctive chords were unable to proclaim to monks, students and visitors the passing of each quarter hour or call them to prayer and Mass.
After a crack was discovered in Bell 6, it was removed from the Archabbey Church tower on February 8 and sent to the Netherlands for repair. Issues were also discovered with Bells 2-5. They, too, were unable to be used.
The issues didn't stop with the bells. Upon further inspection, it was discovered that the antiquated mechanisms for the tower clocks desperately needed to be upgraded.
The cost to repair the bells and tower clocks is $125,000. To date, nearly 370 benefactors have donated more than $100,500 toward that cost. 
Thankfully, the bells have been repaired and are once again ringing out. Repair of the tower clocks, however, is on hold until funding is available.
You can help offset the cost of repairing the tower clocks by using our secure online giving form. Select "Bell and Tower Clock Repairs" in the section called "Use My Gift For."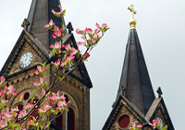 The work of Saint Meinrad is never-ending. You can create opportunities for seeking God and serving the Catholic Church both today and in the furture with planned giving.
Remember Us
We hope you will join the many others who are making these and other works of Saint Meinrad possible. Your gift is important to our mission.
Donate