Conversion of heart leads to giving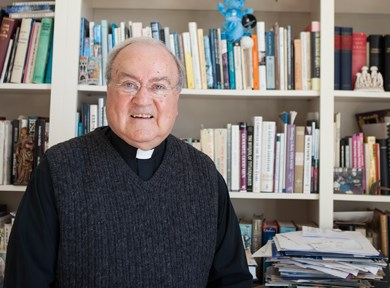 Fr. Joseph Ziliak has been influenced by Benedictines all of his life. And after 53 years as a priest, perhaps it's no surprise that he wants to give back in gratitude for their guidance.
His Catholic upbringing began at St. Benedict's Church in Evansville, IN, which was founded and staffed by monks of Saint Meinrad Archabbey. He was baptized there and attended the parish school, where Benedictine sisters from Ferdinand were teachers.
Fr. Gabriel Verkamp, OSB, was the pastor at the time; he later became the sixth abbot of Saint Meinrad. Another of the monk priests first asked Fr. Joe if he had any interest in being a priest. He agreed to visit Saint Meinrad and subsequently enrolled.
At 13, he became a student at Saint Meinrad High School. Fr. Joe was a Saint Meinrad student from 1950-58, completing high school and college.
Fr. Joe recalls Saint Meinrad as a good place to get an education. "I had good years there…. We played sports and studied. It was just a good life." He was involved in directing music and served as first prefect - the highest student position in those days - as a sixth-year student.
Fr. Joe was then sent to Innsbruck, Austria, to complete his seminary education. After he was ordained in 1962, he returned to the Diocese of Evansville and helped to oversee and teach at a new diocesan-run high school for boys interested in priesthood. He then became involved in communications - first as director of radio and television for the diocese and later as editor of the diocese's newspaper, The Message.
On the weekends, he was serving in parishes around the diocese. In 1987, he moved from newspaper editor to pastor of what would become the most populous parish in the diocese, St. John the Baptist Parish in Newburgh. He served there 25 years until he retired in 2012.
Fr. Joe had made gifts to his alma mater, but it wasn't until he was pastor and using that role to teach others about giving and good stewardship that he had a change of heart. "It finally dawned on me that that was something I needed to do as well," he recalls.
"OK, if I'm not able to give 10%, at least I start with something," he remembers thinking. "And from there it went on to where it's more than 10% today." He found numerous examples in Scripture where the Lord is never outdone in generosity, and it began to change his outlook on giving.
"It was a conversion of mind and heart, and that's where I think the center of stewardship and philanthropic giving begins - it's a conversion inside the person," says Fr. Joe. This epiphany offered another advantage for him. "I could speak differently to the people [in my parish]. Before, it was always a task." As a giver himself, he could now speak from the heart about generosity.
One of his preferred ways to make charitable gifts is through an Individual Retirement Account (IRA). At age 70½, you are required to take a minimum distribution from your IRA. For those who don't want or need to take a distribution from their IRAs, a new law allows them to direct the distribution (up to $100,000) to a charity - without paying federal income taxes.
This has allowed Fr. Joe to be generous to various institutions that have been significant in his life, including Saint Meinrad.
His generosity also extends to a bequest to Saint Meinrad, something that came about after he had reflected on his life. "God has blessed me a whole lot," he says. "I could never have imagined I could have all of this."
As he puts it, it's a way "to say thank you for what has been so important in my life."