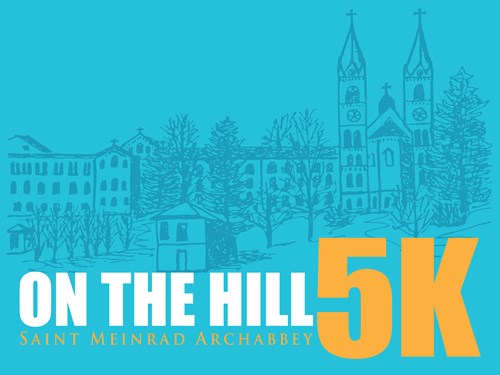 Join us for the On the Hill 5K walk/run virtually or in person on Saturday, September 11, 2021.  The in person race will start at 8:30 a.m. CST.
All proceeds will benefit the Tri-State Food Bank.
Registration is $25 at the event. The fee for kids ages 15 and under is $10 each. The race will provide a free t-shirt (for all registered participants), two water stations, and refreshments at the finish line.
Prizes will be awarded to the top male & female in each age range (under 12, 12-17, 18-30, 31-50, 50+), as well as attendance prizes (must be present to win).

Virtual participants should take a picture of themselves running, their race time, and/or their race location, and post it to the Virtual On the Hill 5K event, which can be found on the Saint Meinrad Facebook page, between 7:00 am CT Thursday, September 9, through Sunday, September 12, at 11:59 pm.
Participants are welcome to join the Saint Meinrad monks for Mass in the Archabbey Church at 7:30 a.m. (running clothes welcome). The Mass will also be livestreamed on our website at https://www.saintmeinrad.org/live