Gallery exhibit features mixed media paintings
Friday April 6 - Monday May 14
Archabbey Library Gallery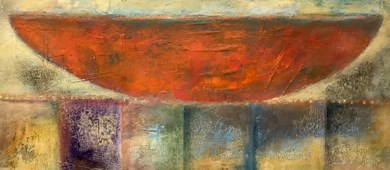 Saint Meinrad Archabbey Library Gallery, St. Meinrad, IN, is hosting an exhibit of mixed media paintings by Louisville, KY, artist Laurie Doctor. The show will run from April 6 through May 14.
Doctor is an accomplished painter and calligrapher who teaches workshops in the United States and Europe.
According to Doctor, the Archabbey was the inspiration for her artwork. "These paintings began on solitary retreats at the Saint Meinrad Archabbey over the last year. Every morning I walked through the winter woods, past the Stations of the Cross, the icy pond and the farmhouse to the studio. Once there, I had no particular plan – only the opportunity to let images arise and follow a thread.
"This work is inspired by this place, this abbey, with its quiet and its bells. A recurring question being raised outside any religious tradition is: How do you find the image or language for praise?"
An opening reception will be held in the gallery on Friday, April 13, from 2 to 4 p.m. Central Time.
For library hours, call (812) 357-6401 or (800) 987-7311, or visit the Archabbey Library's website: www.saintmeinrad.edu/library/hours/.
The exhibit is free and open to the public. Those wishing to view the exhibit may want to arrive at least 30 minutes before closing time.
# # # #
Photo: "Feel the Boat Beneath Your Feet," oil on canvas by Laurie Doctor