We produce a quarterly print newsletter, On the Hill, and an e-newsletter to help you stay informed of the happenings at Saint Meinrad.
On the Hill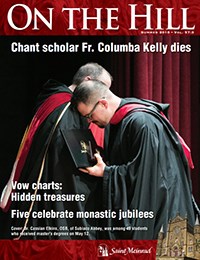 Highlights from the Summer 2018 Issue
Chant scholar Fr. Columba Kelly dies

Vow charts: Hidden Treasures

Five celebrate monastic jubilees
E-Newsletter
Sign up for our E-Newsletter
Sign up now for Saint Meinrad's free e-newsletter. Every few weeks, a free newsletter will appear in your email's inbox, with short items of interest about upcoming events, recent news and links to further information on Saint Meinrad's website.
You can subscribe or unsubscribe at any time.

Please note: Saint Meinrad does not sell or otherwise disclose email addresses to other individuals, companies or institutions.