During your visit to Saint Meinrad Archabbey, please stop by our gift shop, which offers a selection of inspirational gifts, books, Bibles, music and DVDs.
The Monastery Blessings area features foods and gifts handcrafted from Saint Meinrad's monastery and other monasteries across the country and the world.
Our Abbey Café serves sandwiches, soup, pies and drinks.
Hours
Monday - Saturday: 9:30 a.m. to 4:30 p.m.
Sunday: 10:30 a.m. to 4 p.m.
We are on Central Time.
Website
Visit our Gift Shop website at www.smagiftshop.com.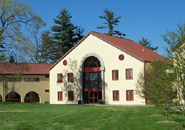 Read about some of the events that have occurred in the monastery each month.
Read Blog