The Archabbey Church is open for visitors. Mass and Vespers will continue to be livestreamed daily at www.saintmeinrad.org/live.
Welcome to Saint Meinrad Archabbey! We'd love to have you visit us at our southern Indiana location.
Join us any day for prayer or Mass in the Archabbey Church. If you have time, take a tour of our beautiful grounds and historic buildings.
You might even want to sign up for one of the many retreats we host in our Archabbey Guest House and Retreat Center.
However long your visit, we're glad to offer a warm welcome. It allows us to live out the words of St. Benedict, "All guests who present themselves are to be welcomed as Christ."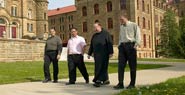 Enjoy our Benedictine hospitality. Join the monks at prayer or tour the grounds.
Prayer Schedule & Tours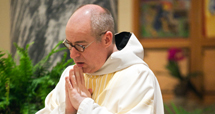 Prayer is our primary mission - our most important work. Let us pray for you.
Submit Prayer Request