Library exhibit of Carolyn Roth paintings
Tuesday November 2 - Wednesday December 8
Archabbey Library Gallery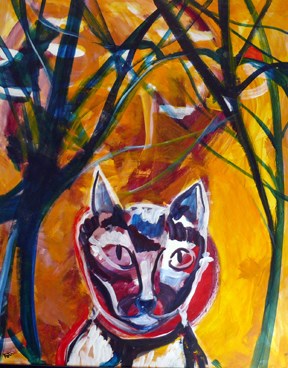 An exhibit of acrylic paintings called "Peaceable Kingdom" will be on display from November 2 through December 8 in the Saint Meinrad Archabbey Library Gallery, St. Meinrad, IN.
The gallery will exhibit works by artist Carolyn Roth of Posey County, IN, who is retired from a long teaching career, most recently at the University of Southern Indiana.
She earned a Bachelor of Fine Arts degree at the Herron School of Art and a Master of Fine Arts from Florida State University. Her work has been exhibited throughout the United States since 1968.
The series of paintings on exhibit is inspired by animals encountered during extensive travels and by the cats that share her home. Roth explains, "On Easter Island, free-range horses were not afraid to come close to visitors. In South Africa, we saw kudus in the bushveld. Outside a barber shop in Vancouver, we interacted with a parrot named Charlie. My eye and camera and heart are drawn to these beings."
Roth's acrylic paintings are colorful and expressive. They are concerned with gesture and movement rather than a realistic portrait. The emotive response of the artist to the subject is the inspiration and essence of the work.
For library hours, call (812) 357-6401 or (800) 987-7311 or visit the Archabbey Library's website: www.saintmeinrad.edu/library/library-hours/.
The exhibit is free and open to the public. Those wishing to view the exhibit may want to arrive at least 30 minutes before closing time. Due to the COVID situation, visitors to Saint Meinrad are asked to wear masks.
Photo: Carolyn Roth painting, "Shared Silences"