Notre Dame professor to give Thomas Lecture
Thursday March 28
St. Bede Theater
7 p.m. Central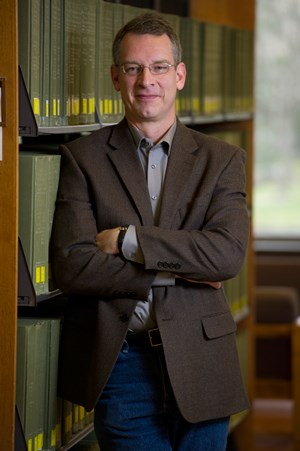 Dr. Brad S. Gregory will present the annual Thomas Lecture on Philosophy and Theology at Saint Meinrad Seminary and School of Theology in St. Meinrad, IN.
The lecture will be held on Thursday, March 28, at 7 p.m. Central Time in St. Bede Theater. This year's lecture is titled "On the Compatibility and Complementary Flourishing of Catholicism and the Natural Sciences."
Gregory is the Dorothy G. Griffin College Professor of History at the University of Notre Dame, where he has taught since 2003, and where he is also the director of the Notre Dame Institute for Advanced Study.
From 1996-2003, he taught at Stanford University. He specializes in the history of Christianity in Europe during the Reformation era and on the long-term influence of the Reformation era on the modern world. He has given lectures at many of the most prestigious universities in North America, as well as in 18 countries.
Before teaching at Stanford, he earned his PhD in history at Princeton University and was a Junior Fellow in the Harvard Society of Fellows; he also has two degrees in philosophy from the Catholic University of Louvain, Belgium.
His first book, Salvation at Stake: Christian Martyrdom in Early Modern Europe (Harvard, 1999), received six book awards. His book, The Unintended Reformation: How a Religious Revolution Secularized Society (Belknap, 2012), received two book awards, garnered over 100 reviews internationally, and has been or is being translated into Italian, Spanish, Polish, Chinese and Arabic. His most recent book is Rebel in the Ranks: Martin Luther, the Reformation, and the Conflicts that Continue to Shape Our World (Harper, 2017).
The Thomas Lecture is made possible by an endowment established in honor of the late George and Mary Thomas and the late Fr. Kieran Conley, OSB. The lecture provides an opportunity for students and faculty at Saint Meinrad Seminary and School of Theology to explore issues in philosophy and theology.
The lecture is free and open to the public. Parking is available at the St. Bede, Guest House and student parking lots. Saint Meinrad operates on Central Time. For more information, call Mary Jeanne Schumacher at (812) 357-6501 during business hours.