Five join Saint Meinrad Board of Overseers
Monday, October 9, 2023
Five new members have been added to the Board of Overseers, the advisory board for Saint Meinrad Seminary and School of Theology.
Five new members have been added to the Board of Overseers, the advisory board for Saint Meinrad Seminary and School of Theology, St. Meinrad, IN.
The board advises President-Rector Fr. Denis Robinson, OSB, on matters related to the school's programs and performance and addresses strategic questions regarding the future of the school.
New to the board are Kyle King of Evansville, IN; John Lechleiter of Indianapolis, IN; Matthew Nix of Cynthiana, IN; Ryan Renoud of Louisville, KY; and Jeffrey Terhune of Lexington, KY.
New Board Members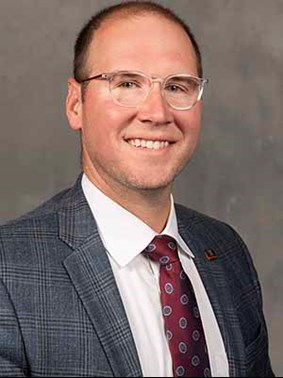 Kyle King is an optometrist and owner of Evansville Eyecare Associates. He is a member of the American Optometric Association and is a trustee in the Indiana Optometric Association. He is on the Development Committee for Habitat for Humanity and has held several professional leadership roles. He is a member of Deo Gratias Society in the Diocese of Evansville, is a volunteer provider at the Evansville Community Health Organization Clinic and does school vision screenings at various elementary schools in the Newburgh area.
Kyle attended Gibson Southern High School in Fort Branch, IN, graduating in 2003. He graduated from Indiana University in Bloomington with a bachelor's degree in biology in 2007, and IU School of Optometry with a Doctor of Optometry degree in 2011.
Kyle lives in Evansville, IN, and is a member of Holy Cross Church in Fort Branch, IN, where he is involved in music ministry.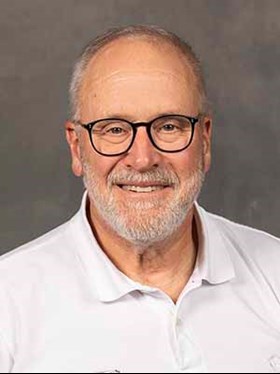 John Lechleiter, retired in 2016 as CEO of Eli Lilly and Company in Indianapolis, after more than 37 years of service. He was chair of Lilly's board of directors from 2009-2017. He is an honorary trustee of the Children's Museum of Indianapolis, a member emeritus of the Central Indiana Corporate Partnership and a member of the American Chemical Society. He serves on the board of directors of Battelle Memorial Institute (Columbus, OH), Indiana Economic Development Corporation, Indiana Biosciences Research Institute, Lilly Endowment, Inc., and the Hoosier Art Salon. He is a former member of the boards of Great Lakes Chemical Corporation, Nike, Inc., and Ford Motor Company. 
In 2016, John and his wife jointly received the Charles L. Whistler Award for service to the Indianapolis community. In 2017, they were each awarded the Sagamore of the Wabash by Governor Eric Holcomb. John was inducted into the Indiana Academy in 2019 by the Independent Colleges of Indiana.
​John attended St. Xavier High School in Louisville, KY, graduating in 1971. He graduated from Xavier University in Cincinnati, OH, with a bachelor's degree in chemistry in 1975. In 1980, he graduated from Harvard University in Cambridge, MA, with master and doctoral degrees in organic chemistry.
John and his wife, Sarah, live in Indianapolis and have three children, Daniel, Andrew, and Elizabeth, and nine grandchildren. They are members of Immaculate Heart of Mary Parish in Indianapolis.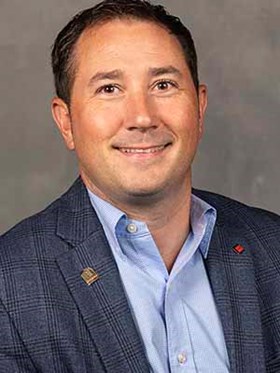 Matthew Nix is the president and CEO of Nix Companies in Poseyville. He is a member of the Posey County Redevelopment Board and founding chairman of Grow Poseyville. He is also on the Regional Board of German American Bank and a member of Legatus Catholic Business Executives.

Matthew graduated from North Posey High School in 2003. In 2004, he graduated from Vincennes University with a certificate in welding technology and completed a certificate in executive business administration from Notre Dame in 2017.

Matthew and his wife, Lindsey, are the parents of three children: Charles Matthew, Mason Eugene, and Roman Tyler. They belong to Sts. Peter and Paul Parish in Haubstadt, IN, where he is a member of the maintenance committee.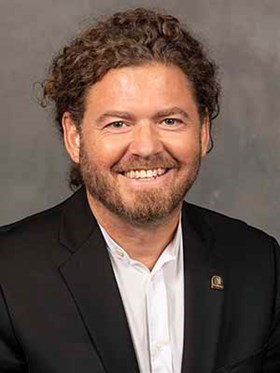 Ryan Renoud is a theology teacher and bus driver at Mercy Academy in Louisville, KY. He is also the owner of OK Awning Company and Crescendo Amazon. He is a member of the FBI Citizens Academy, Knights of Columbus, and past president of the Vatican's Pontifical University Student Representative.

Ryan attended Sehome High School in Bellingham, WA, graduating in 1988. He graduated from Angelicum Pontifical University in Rome, Italy, with a Bachelor of Philosophy degree in 2006, and a Bachelor of Theology in 2009. He received a Master of Theology Post-Master Terminal Degree from Harvard University in Cambridge, MA, in 2011.

Ryan lives in Louisville, KY, and is a member of St. William Parish. He has been involved in the ministry program as the director of religious education for five years.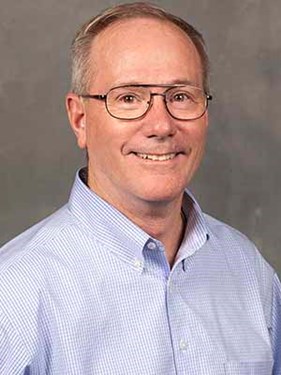 Jeffrey Terhune is a financial advisor at RW Baird & Co. His past positions include being a colonel in the U.S. Army (retired) and a Lockheed Martin Executive.
He graduated from Lexington Catholic High School in 1978. He went on to graduate from the U.S. Military Academy in West Point, NY, with a bachelor's degree in aerospace engineering in 1982 and a master's degree in leadership development in 1992.
Jeff is a certified financial planner and a past grand knight of the Knights of Columbus Council. He and his wife, Marty, have four children, Mary Hawks McCurry, William Hawks, Jeffrey Terhune, and Danielle Terhune, and eight grandchildren. They belong to Mary Queen of the Holy Rosary in Lexington, KY. Jeff has served on the parish pastoral council, is involved in RCIA, and is a member of the K of C.