Exhibits feature miters and typefaces
Thursday February 15 - Friday August 31
Archabbey Library
Saint Meinrad Archabbey Library Gallery, St. Meinrad, IN, is hosting two exhibits curated by Saint Meinrad monk Fr. Harry Hagan, OSB.
Both exhibits are on display through August 31.
The first exhibit features miters and other pieces used by bishops and abbots for the celebration of a pontifical Mass. Br. Kim Malloy, OSB, the Archabbey sacristan, chose these examples from the treasury of the sacristy.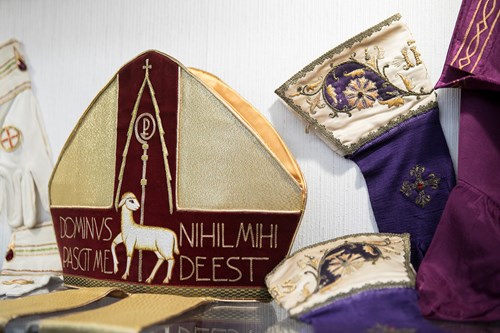 Fr. Donald Walpole, OSB, artist and monk of Saint Meinrad (1917-2012), designed two of the miters. These, with two others, were exquisitely crafted by the Precious Blood Sisters of O'Fallon, MO.
A copy of the miter that belonged to Martin Marty, OSB, the first abbot of Saint Meinrad (1870-1880) and later bishop in the Dakotas, was originally made by the Benedictine Sisters of Au near Einsiedeln, Switzerland. Another miter reflecting a modern aesthetic was designed and made by Br. Kim.
Included are two croziers that belonged to the late Archbishop Daniel Buechlein, OSB. Br. Lawrence Shidler, OSB, the Archabbey's longtime carpenter (1920-2004), made the wooden crozier and carved the medal of St. Benedict into its crook. The priests of the Diocese of Memphis presented the other miter, which features an enamel of his coat of arms as well as his motto around a band: "I seek your face, O Lord."
Also on display is a pectoral cross with a large amethyst, given by the alumni of the Saint Meinrad Minor Seminary to Archabbot Bonaventure Knaebel, OSB, for the day of his abbatial blessing in 1955. Along with other objects are several pieces no longer used at pontifical Masses, which testify to a different time and sensibility.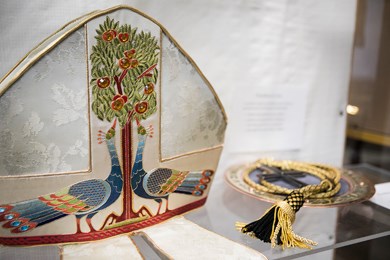 The exhibit provides a sense of the high quality of art and craft that artists have devoted to the celebration of the liturgy.
A History of Typefaces
The second exhibit, "A History of Typefaces," features selections from the library's Rare Book Room.
When Guttenberg invented printing, he imitated the black letter calligraphy of late medieval manuscripts, but this type was not easy to read. Soon, new typefaces began to appear based on the classic Roman letters of Trajan's Column and on the handwriting of the Roman chancery (italic).
This exhibit displays a facsimile of the Guttenberg Bible with its signature black letter font. Books from the Archabbey Library's Rare Book Room, dating from the late 1400s and 1500s, provide examples of the early Roman fonts.
Other books from the Archabbey Library's collection follow the development of typefaces into the 20th century.
For library hours, call (812) 357-6401 or (800) 987-7311, or visit the Archabbey Library's website: www.saintmeinrad.edu/library/hours/.
The exhibit is free and open to the public. Those wishing to view the exhibit may want to arrive at least 30 minutes before closing time.