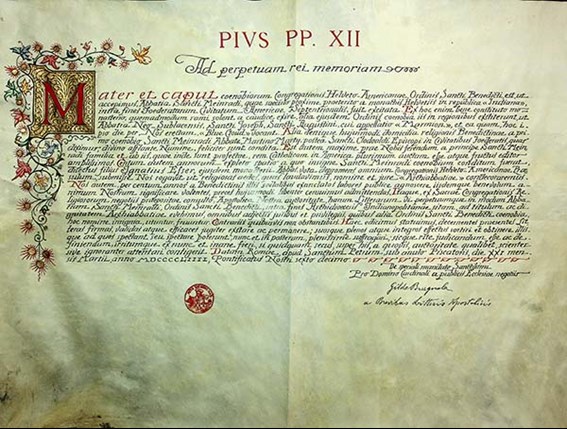 The Saint Meinrad Archabbey Archives serve to connect our community's past, present, and future. We preserve records, photographs, and historical materials, making them available to those who may wish to learn more about the monastic way of life in southern Indiana and the United States.
Our history began in 1854, when Benedictine monks arrived from Switzerland to minister to German-speakers in the area. Our motherhouse – Maria Einsiedeln – was founded in 934; her motherhouse – Kloster Reichenau – was founded in 724. Our century-and-a-half of history is not quite as long, but the mission of our Archives is to preserve our history as long as God's providence will allow.
Far from standing back and allowing history to pass us by, we are taking an active role to make history available and enable it to come alive for monks, family, friends, researchers, and others curious about our Benedictine way of life. It is with the past in mind that we preserve our history now for the benefit of future generations.