What about the house? Peanut Brother.
There's a new product you can find around the Hill - "Peanut Brother," a delicious, homemade peanut butter made by the monks. Our Brothers Nathaniel and Kolbe first started making their own, natural peanut butter as a healthier alternative to store-bought kinds.
Over the past several months, it has become quite popular with the monks, and so the community has decided to expand production, with many monks pitching in on their free time to help Br. Nathaniel and Br. Kolbe in grinding peanuts, jarring the peanut butter, and labeling the jars.
The next time you're here at Saint Meinrad, you can purchase it at the Archabbey Gift Shop, or if you happen to be at the Christkindlmarkt in Ferdinand, Indiana, this year, you'll be able to purchase it there, also-- that is, as long as supplies last!
October Happenings
We welcomed Candidate Dennis Reyes into the monastery to continue his discernment with us. Originally from the Philippines, Candidate Dennis has lived in the United States for several years as he pursued his doctoral studies in music composition at the University of Illinois. We are grateful for his presence among us. Continue to pray for vocations!
Every weekend in October and May, there are pilgrimages held at our Monte Cassino Shrine. This October, Fr. Subprior Guerric, Br. Maurus, Br. Kolbe, and Novice Christian delivered the homilies.
A new Knights of Columbus Council has formed from the merger of the local parishes of St. Isidore and St. Martin, and they have decided to name their new council after our Fr. Timothy Sweeney, who served those parishes faithfully as pastor for several years. We are grateful that they have decided to honor our confrere's memory in this way'.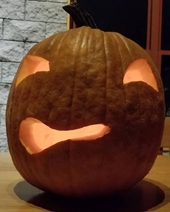 We welcomed Fr. Laszlo Simon, a Hungarian Benedictine working at the Benedictine House of Studies of Sant' Anselmo in Rome, as he helped with the process to renew the affiliation between our Seminary and School of Theology and Sant' Anselmo.
Fr. Archabbot Kurt has appointed Br. Simon to the Communications Advisory Board, where he will help evaluate the present communications program and give direction to future programs and projects. Fr. Archabbot has also asked Br. Joel to assume the role of webmaster of the Swiss-American Congregation, in which he will report directly to the Abbot President.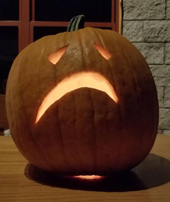 Finally, the community celebrated our annual Halloween pumpkin carving party once again. Enjoy the photos by Br. Justin Dodzi of a couple of the pumpkins!
Thanks for reading! As always, readers can submit any questions they have about the monastery to aboutthehouse@saintmeinrad.edu and hope to see the question answered in a future edition.