Note from the editor:
Apologies for the delay in publication this time around. The start of August was extraordinarily busy (as you'll soon see!), and since then I've been recovering in our infirmary from major surgery on my lower jaw. In all this busyness, I let the blog slip between the cracks. Apologies once again, and enjoy the latest, belated installment.
What about the house? The Infirmary.
The past several weeks, I've gotten to know our infirmary quite well since I've been living here while recovering from surgery. In his holy Rule, St. Benedict places a high priority on caring for the ill and aged, and so we do our best at Saint Meinrad to do the same.
We are fortunate to have a well-equipped infirmary staffed 24/7 by our excellent and compassionate nursing co-workers. This allows all of our ill and infirm monks to live at home as they recover from their illnesses, or as they live out their days preparing for their final home in heaven.
The excellent care and facilities provided in our infirmary would not have been made possible without the generous service and support of our co-workers and benefactors, and so the monks remember them every day in our common prayer.
July Happenings
As is our custom, we honored the 30th day since Fr. Columba's passing. The abbot presided and preached, and all six bells were rung in a full peal to mark the occasion. Speaking of Fr. Columba, Fr. Jeremy was pleased to accept the Jubilate Deo award for Fr. Columba from the National Association of Pastoral Musicians (NPM) on July 11, the Feast of St. Benedict, at their meeting in Baltimore. Fr. Columba was named the recipient before his passing.
We welcomed Fr. Edward home for a week before he returns to Rome to assume his new duties as the director of the Continuing Education Institute at the Pontifical North American College in Rome.
Also, the last One Bread, One Cup youth liturgical leadership conferences were held, and so another successful OBOC season came to a close. Every year, to celebrate end of the season, the Archabbot treats the college interns to an ice cream outing at the Dairy Barn in Birdseye. This is always a favorite of the interns.
On Thursday the 27th, we welcomed some visitors from Switzerland. The mayor of Einsiedeln, accompanied by some nine or 10 fellow travelers, arrived mid-morning for a tour. After joining us for Midday Prayer, Archabbot Kurt and others joined them for lunch and an "exchange of gifts." The visitors also visited Santa Claus and Tell City, before heading on to Louisville, KY, where the mayor gave a talk to the Swiss Club.
Finally for July, we celebrated once again the Feast of Our Lady of Einsiedeln and the abbatial blessing of Archabbot Kurt. We also celebrated the profession jubilees of Fr. Bonaventure, Brothers Giles and Kim, and Fathers Adrian and Brendan. Ad multos annos!
We also welcomed the alumni back for their annual reunion. This event is usually spirited and well attended, and this year was no different.
August Happenings
Too many to recount! Candidate Christian was invested as a novice, Fr. Mateo (formerly Novice Noel) made his simple profession, Br. Lorenzo made solemn profession, and Fr. Peduru was ordained to the priesthood.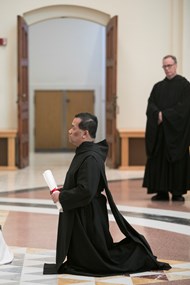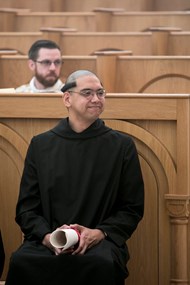 And all this in 10 days! Needless to say, August was a time of joyful and rigorous preparation and liturgical celebration. Congratulations to all who progressed in the pursuit of God's call this month!
The buildings around the Hill experienced some power outages due to annual testing of the backup generators. Also, the monastic community was joined for supper by seven priests participating in a summer-long mini-sabbatical hosted by our Institute for Priests and Presbyterates.
Brother Lorenzo left for Italy on Tuesday, August 21. The evening before, at Vespers, he received the special blessing for confreres being sent on a mission. Brother Lorenzo's immediate mission involves a month of language school in Urbania (northern Italy), prior to his taking up residence and studies in liturgical studies at Sant' Anselmo.
Br. Lorenzo has been making videos or "vlogs" of his time thus far in Italy, and they can be found on Saint Meinrad's Facebook page and at https://aperturemonk.smugmug.com/Videos/Travel-Videos/.
Br. Kolbe returned home from his visit to Europe, which included time spent at Einsiedeln, our mother house in Switzerland. Our continuing fraternal relationship with the monastic community of Einsiedeln is one of our most cherished and enriching.
Saint Meinrad Archabbey was honored this month with two wellness awards. Saint Meinrad achieved the Bronze Level for the American Heart Association 2018 Workplace Health Achievement Index for taking significant steps to build a culture of health in the workplace. 
The Workplace Health Achievement Index allows companies to measure the effectiveness of their workplace health programs as well as the overall heart health of their employees. 
Also, Saint Meinrad also earned a three-star AchieveWELL designation by the Wellness Council of Indiana. Many thanks to our dedicated wellness staff for all their hard work!
Finally, our Br. John departed Columbia University to travel to Belgium to continue his research for his doctoral dissertation in historical musicology. From September through June, he'll be living and working at Ghent University, as he takes advantage of this wonderful opportunity provided him through his receiving the Fulbright award.
Reader Questions: A reader asks about the position of the cellarer as found in the Rule of St. Benedict. What does the cellarer do and does Saint Meinrad Archabbey have one? Look forward to next month's edition for the answer!
As always, readers can submit any questions they have about the monastery to aboutthehouse@saintmeinrad.edu and hope to see the question answered in a future edition.