What about the house? The Customary.
Those who know about Benedictines know that we follow the Rule of St. Benedict, a sort of guidebook written in the 6th century by St. Benedict for monks living in his monastery. It contains all sorts of of spiritual and practical insights to help monks and nuns live well in the monastery, and it's also useful for anyone who is interested in applying monastic spirituality in their own lives.
However, the holy Rule is a product of its time, and the world we live in and the needs of monasteries have evolved. Although we monks still look to the Rule for its guiding principles, each monastery has its own customary, or book of customs, that more clearly defines the monks' duties, obligations, privileges, and communal practices that they are expected to observe.
So, for example, just as St. Benedict takes it for granted that monks will sometimes travel and writes guidelines for his travelling monks that were applicable in his time, so our customary clearly describes our own community practices regarding travel that are relevant to our needs.
It tells us how our monks can request time for a home visit or personal use, how much of that time we can expect to receive and when we can take it, and it lays out the procedure we use to request transportation and funds for our use while travelling. The customary helps make our communal life possible, and it's one of the many ways we adapt the spirit of Benedict's Rule to our own age.
June Happenings
Speaking of travelling, many monks have been away from the monastery this June going to ordinations, visiting their families, attending conferences, and pursuing other monastery business.
We mourned the passing of our Fr. Columba, who went to the Lord on Saturday, June 9th - the feast of his patron, St. Columba. Fr. Jeremy delivered his remembrance at the Office of the Dead, and Fr. Archabbot Kurt preached the homily at the funeral, which was well attended by many friends, family, and former students of Fr. Columba, as well as many oblates present for the study days that were also being held that week.
Also, the One Bread, One Cup program began in earnest, bringing with it to the Hill youthful energy and vitality, as it does every year. Saint Meinrad also hosted the annual gathering of The Einsiedeln Society, an organization of friends and benefactors of the Archabbey.
Br. Jacob and the IT department also installed a new phone system in the monastery and have provided resources and information for the monks to learn the new system.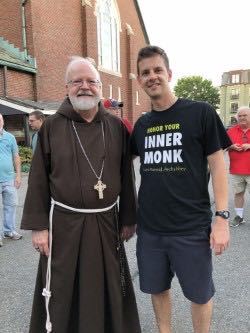 Six of our Junior monks departed for the nine-day Benedictine Junior Summer Institute, hosted this year by St. Anselm Abbey in Manchester, New Hampshire. The journey took two full days in the car both there and back, and each time they stayed overnight at St. Vincent's Archabbey in Latrobe, PA.
Once at the Institute, they enjoyed several conferences on monastic topics, an outing to Boston, a boat tour, a cookout and lobster boil with Cardinal Sean O'Malley of Boston, and much time spent socially and in prayer with the monks of St. Anselm and with nearly 30 other Benedictine monks in simple vows from several monasteries across the country.
Some illnesses and missed "creature comforts" aside (no air-conditioning), the experience was both enjoyable and enlightening for all the participants.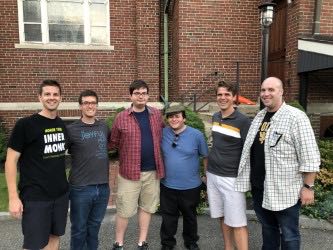 Finally, Novice Noel's petition for simple vows and Candidate Christian's petition for investiture into the novitiate were accepted by the chapter and abbot's council, respectively. The community rejoices at their discernment, and as always, keep praying for vocations!
Reader Questions:
As always, readers can submit any questions they have about the monastery to aboutthehouse@saintmeinrad.edu and hope to see the question answered in a future edition.