Father Subprior Guerric DeBona
Subprior of Saint Meinrad Archabbey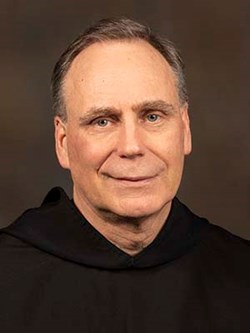 Fr. Guerric DeBona, OSB, was appointed subprior of Saint Meinrad Archabbey during the summer of 2008. The subprior is the third in leadership in the monastery.
A native of Jamaica, NY, he made his profession of vows on August 6, 1981, and was ordained on May 4, 1986.
Fr. Guerric has a bachelor's degree from the State University of New York, a Master of Divinity from Saint Meinrad Seminary and School of Theology, and a doctorate from Indiana University.
From 1985-89, Fr. Guerric served as vocation director for the monastery. From 1986-89, he taught English literature at Saint Meinrad College. He also served as associate dean of students and dean of college seminarians.
Fr. Subprior Guerric is novice and junior master for the monastery. He is also director of Hispanic ministry and associate professor of homiletics for the Seminary and School of Theology, as well as formation dean for the monastic students.
He is the author and editor of several books, including Praying with the Benedictines and his latest, Film Adaptation in the Hollywood Studio Era.